Tampa Locksmith Access Control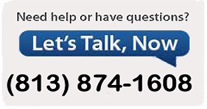 Security Lock Systems offers access control management systems fully outfitted with photo ID cards, digital imaging, biometrics, and other technology options to help you positively identify employees.
Access control systems help control and monitor the all activity in and out of your establishment including relays, readers, and door positions of any door in the system. If there is a security breach at any of the secured entry ways, the access control system will alert the security team/business owner to exactly when and where the breach happened. For further safety of your business, property, and employees, the access system can report on all card readers' activities. Implementing an access control system as part of your security strategy will give your security team total control of the business environment. This will allow for efficient tracking and management of visitors on the premises, integrating with your HR database to manage employees, and providing alert settings in case of a breach.
From a small "Mom and Pop" store to a large enterprise business, access control management is big step in the right direction for securing your business, assets, and employees. Regardless of your organization's size or the number of locations it has, Security Lock Systems will continue to provide its clients with a powerful system designed to meet each organization's unique needs.