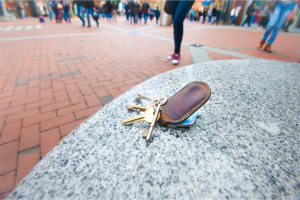 Welcome To Security Lock Systems
Founded in 1981, Security Lock Systems provides complete Locksmith, Video Surveillance, and Access Control Systems. We offer complete 24/7 Locksmith Services for Commercial, Residential and Automobiles. We also are a full Service Security Integrator offering professional design, engineering, and installation of state-of-the-art access control and video surveillance systems for complete loss prevention solutions. Security Lock Systems' teams of experienced locksmiths, sales engineers, project managers and technicians design and install superior locking hardware and electronic systems locally and throughout Florida.
Having earned a client base of more than 400 Florida based companies, Security Lock Systems has generated recognition as a trusted partner. We maintain ongoing business relationships with organizations raging in the size from owner- operated companies to Fortune 500 companies in the commercial, government, corrections, property management, banking, military, manufacturing, healthcare and educational markets.
Our solutions utilize integrated state-of-the-art, but proven, solutions in the following technologies:
Access / Door Control Systems

Digital Video Surveillance

Fire and Burglar alarm

Full Locksmith Service
Gate control Systems

Master keying Systems

Electronic Locking hardware
To what do we owe our success? Service, service, service! Supported by teams of seasoned, certified professionals. Security Lock Systems provides industry-leading customer care and technical support. Our experienced sales consultants, engineers, project managers, technicians, and locksmiths take pride in offering you the best service available in the industry. Whether its pre-sale questions, design, installation, or general education, there are knowledgeable consultants just a click or call away.
We are here to serve our customers.

We are educated in core technology solutions to solve customer's security, business oversight, and productivity problems.

We perform top-quality work with emphasis on communication, excellence, and attention to detail.

We adhere to ethical business values while continuing to develop a healthy company.

We use innovative, but proven technology solutions.

We strive to constantly improve communications with our customers on all aspects of project progress.

We thoroughly test every job prior to delivery to customer, with supreme attention to details.

We listen carefully and compassionately to customer requirements and respond with a clear understanding of their problems and thoughtful solutions with their business operation and objectives in mind.

We continue to develop, foster, and value happy employees- happy employees are essential for happy Customers. We accomplish this through mutual respect, training, clear direction, opportunities for development, and proactive teamwork.